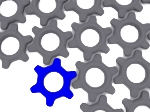 Relocate Malta offers an extensive service to its customers beyond the acquisition or letting of the property. Having assisted many customers in the relocation services, we have set a basic program. The program is a guideline as every customer has his own needs. Our services can be easily tailored for every customer.

The Relocate Malta Program comes categorised in three separate stages, mainly concentrating on relocating the new overseas home owner:
CONTACT us to discuss your requisites.