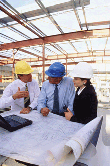 Before The Move (Turnkey Service)

Depending from what state the property you purchased is, we will provide the right planning and consult the best solutions. Resulting into a turn-key service.

During this stage we will contract and supervise workmen to construct or improve the dwelling. We will report on works progression. We will accompany the client to our partnersí showroom for the purchase of furniture, kitchen cupboards, white goods, bathroom units, and all other needed furniture accessories, home-electronics and all other necessary items.